Monmouth Canoe and Activity Centre
Canoeing, kayaking, rock climbing, abseiling or caving, with qualified instructors for all activities. The Centre is approximately 6 miles from the Coach House.
Cycling
Cycling in the heart of the Forest of Dean on way marked traffic free trails. Experience the joys of riding easy routes or challenging rides on a network of stone tracks.
Off Road Driving
Approximately 4 miles away at Coleford is the Whitecliff Off Road Driving Centre. Vehicles include Land Rover 90, Discoverys and Range Rovers. Group events include Hovercraft and Military vehicles.
Qualified staff teach a great deal while you have an excellent time. The self-contained site is a disused quarry, lessening the environmental impact associated with motorized activities.
Archery and Shooting
Tuition at local shooting schools in Archery, Clay Pigeon Shooting and Air Rifle Target Shooting.
'Bowmen of the Deans' meet at Newnham cricket club and cater for both adults and juniors. Mr Phelps can provide more information on 01594 544725. If you are a group looking to try archery you may like to contact:
Forest of dean Paintball
Paintball is currently one of the fastest growing sports in Europe.
Forest of Dean Paintball is situated in over 50 acres of open grassland, valleys and dense woodland cover. Everybody is catered for, from children's parties (ages 11+), individuals, corporate events, stag and hen parties.
Two teams pit their wits against each other trying to out-think and out-manoeuvre the opposing team. The games played have different objectives and scenarios; it is then down to you to achieve your particular task without getting 'marked' (paintballed) by your opposing team.
www.forestofdeanpaintball.co.uk
Maize Maze, Elton Farm
Three Pirate themed maize mazes can provide an opportunity for two teams competing. Cross the bridge and find the hidden treasure. Enter the Pirates of the High Seas maze and track down the Pirates and their ill-gotten gains.
Llama and camel trekking
A llama trek with one of the Green badge guides is a memorable event and highly recommended. A llama trek can also be a perfect opportunity to take a leisurely picnic in the forest, without the hard work the llama will carry it all in a cool box.
www.severnwyeequestrian.co.uk/llama-trekking.html
Caldicot Castle
Caldicot Castle is set in fifty five acres of beautiful Country Park. The river Neddern winds its way through areas of woodland and pasture and the wildlife pond is complete with a pond-dipping station. The park offers an ideal setting for picnics and walks against the magnificent backdrop of the medieval castle walls with picnic tables and barbecue hearths on site.
Go Ape High level ropes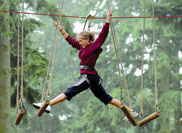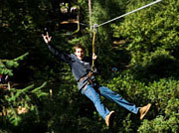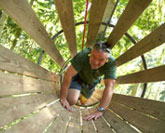 Take to the trees and experience an exhilarating course of rope bridges, Tarzan swings and zip slides up to 40 feet above the forest floor.
Ideal for friends, families and corporate groups, you'll share approximately 3 hours of fun and adventure going ape up in the trees. Make a day of it and enjoy a full day exploring the forest.
Min age 10yrs. Min height 1.4m. Pre-booking essential. Book online and watch people Go Ape! at our website.
0845 643 9215
Horse Riding
Our local BHS approved riding school offers top class training and tuition for all levels.
Walking
There are so many walks around The Coach House that you could organize a different one for every day of the week. Walks include forest treks, Offa's Dyke path which runs close by, The Poets Path Walk and The Wye Valley Walk.
www.bestwalks.com/gloucestershirebooks.htm
www.go4awalk.com/userpics/index_theroyalforestofdeanandthewyevalley.php
Fishing
The Wye Valley and Forest of Dean offer excellent fishing both on the River Wye itself and on some of the wonderful still water ponds and lakes in the Forest of Dean.
www.monmouthfishing.co.uk/maps-2/river-wye-2/
Bigwell Fly Fishing in Redbrook about 3 miles from The Coach House
Tel 01600 772904 or 07748227347
Golf
Golf courses nearby include Forest Hills, The Rolls at Monmouth, The Welsh National course at Celtic Manor and. St. Pierre near Chepstow.
www.therossonwyegolfclub.co.uk
Spa Visits
We have 2 wonderful spas close by at St. Pierre and Celtic Manor. Half or whole day visits could be part of your holiday.
Clearwell Caves
As well as entering an extensive natural cave system, when you visit Clearwell Caves you are experiencing some of Britain's oldest underground mine workings, dating back well over 4500 years. You walk through impressive caverns created by many generations of Forest people who made their living by mining iron ore and ochre.
Goodrich Castle
www.english-heritage.org.uk/visit/places/goodrich-castle/
Chepstow Castle and museum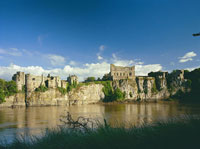 www.cadw.gov.wales/visit/places-to-visit/chepstow-castle
Tintern Abbey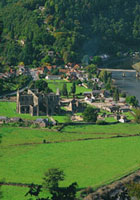 www.cadw.gov.wales/visit/places-to-visit/tintern-abbey
Nature in Art
Nature in Art is the world's first museum dedicated exclusively to fine, decorative and applied art inspired by nature. Our growing collection is housed in a fine Georgian mansion dating from the mid 1700s. We regularly change our displays and have a vibrant programme of temporary exhibitions supported by an unrivalled programme of artists in residence. International in scope, appeal and stature, Nature in Art is a must for all those interested in world-class art, nature and heritage.
Puzzle Wood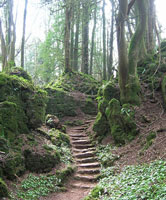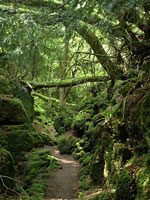 Roman Iron Mines in beautiful surroundings which remain unaltered since the 1800s. A maze of paths with unique wooden seats and bridges enables the weathered and moss covered rocks to be seen at their best.
Explore a mile of meandering pathways through beautiful ancient woodland. The mile of paths wind through gulleys and moss covered rocks, over bridges and through fantastic tree and rock formations.
Beautiful walk through ancient woodland
Ancient Iron Ore workings
Shetland Ponies, Donkeys, Highland cattle, Wild Fowl
Indoor Puzzle maze
Tea Room and Picnic Area
Puzzlewood - A Magical day out in the Forest of Dean
www.puzzlewood.net
The Beechenhurst Sculpture Trail
The Sculpture Trail shows seventeen permanent artworks, with free access to all in a wonderful woodland environment. Temporary events are also programmed, alongside an outreach programme.
www.forestofdean-sculpture.org.uk
Nelson Museum, Monmouth
Collection details
Archaeology, Archives, Aviation, Coins and Medals, Decorative and Applied Art, Industry, Land Transport, Maritime, Personalities, Social History, Trade and Commerce, Weapons and War
Contact details
General information (Tel) : 01600 710630
General information (Fax) : 01600 710631
E-mail : nelsonmuseum@monmouthshire.gov.uk
Website :www.monmouthshire.gov.uk/monmouth-museum/
Perrygrove Railway
The Family's Favourite Heritage Railway!
Children like Perrygrove because it's the friendly heritage railway where there's more things to do- including the indoor village and secret passages - treasure is hidden here! Adults like the covered Picnic & Play at Foxy Hollow, the woodland walks, the relaxed atmosphere, and no pressure to spend money (no charge for extra rides). Railway enthusiasts of all ages like the Heywood Collection, lots of photo opportunities, and engine shed visits (subject to staff).
And everyone likes our cakes.
The Dean Forest Railway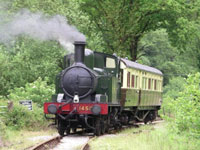 The Dean Forest Railway - based near Lydney in Gloucestershire - provides the sight, sounds and smells of travel on a rural branch line from a bygone era. A standard gauge heritage railway operated by steam trains and the occasional heritage diesel or diesel railcar. The round trip is over 8 miles. Norchard Station has a free museum, gift shop and café.
As well as heritage train services for visitors to the Forest of Dean, the Railway runs special events suitable for all the family and some which will be of interest to Railway Enthusiasts.
Harts Barn Cookery School
Cook, create, party and dine overlooking the beautiful Gloucestershire countryside in The Forest of Dean.
Create your perfect party- we can accommodate your own theme or choose from the many which we have to offer;
Cocktail Cupcakes, Cheese and Wine Tasting, Chocolate Heaven, Sweet making, Ready, Steady Cook Challenge etc.
Let our chefs come to you at The Coach House. All you have to do is relax and enjoy the experience.
Birthdays, Buffets, Dinner Parties, Girls' Night In, Big Breakfasts, Afternoon Tea, Family Occassions, Holiday Treat.
www.hartsbarncookeryschool.co.uk
Wye Valley Arts Centre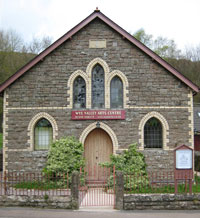 The Wye Valley Arts Centre is located at the Hephzibah Gallery, a building of great character beautifully modernised and restored in the centre of the picturesque village of Llandogo in the Wye Valley on the border between Wales and Gloucestershire.
The inspiring environment and excellent studio facilities combine to make the Centre an ideal place for students to enjoy a wide range of courses in Painting, Drawing, Sculpture, Photography, Picture Framing, Lace making, Silk Painting, Stained Glass, China Restoration, Writing and Poetry.
Tel 01594 530214
Find more at www.wyedeantourism.co.uk .